As a dance studio, we are amazed at the number of people who are looking for Hip Hop classes. We certainly get a fair share of website visits and calls asking about these classes. Hip Hop is a fun dance genre and due to the popularity of the music and what kids see on TV, this seems natural. We are thrilled when kids decide they want to dance. Taking Hip Hop can be an introduction to not only dance but to Catherine's Dance Studio as well.
Want to learn to dance? Take more than a Hip Hop class
In our studio, we emphasize building skills with our dancers. Building a students' technique is the most important element of learning to dance. Most of our serious students, those who have goals to make a dance team in high school or a college scholarship, take several classes every week to work on these skills. Hip hop is a fun introduction to dance, but hip hop class alone won't take a dancer where she needs to go if her aspirations are larger than learning a few cool dance moves.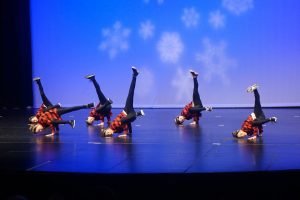 Preparing for a high school dance team
Most of our new students start with one class and then add more classes each year. We recommend ballet and jazz as core technique classes. Our more committed dancers also take the Lyrical and Leaps and Turns classes. When a student does not take several dance classes, does it mean she is not committed to getting better? Not all the time. It depends on the goal each girl sets for herself, how much she practices outside of class, and what her plans are for her future! As for younger girls, we make sure they have positive first dance experience. You never know where dance might take a girl! She might start dancing at three or four years of age and end up loving to dance, taking many classes, and becoming part of the competitive team at Catherine's! We hope our dance teachers make such an impact on their students that all the girls want to continue to dance and improve their skills and techniques!
We believe every student at Catherine's Dance Studio has the potential to be a good dancer with hard work, commitment, and a desire to learn and grow!
The original date of this post was July 2016. It has been updated.