We believe in getting to know our students as individuals.  It's Catherine's belief that proper dance technique is the key to developing better dancers. We achieve this is through smaller class sizes. It is our sincere hope that with love and support, a student will do amazing things through her training with our studio.
About our love to teach
When she was little, Catherine wanted to be a ballerina. As Catherine got older she realized she loved teaching ballet. Catherine feels her caring nature and her ability to make each girl feel special makes her a good instructor.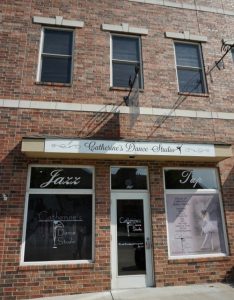 Students come to class to have fun and work hard. The staff is able to combine their unique gifts to help girls grow and become wonderful people and beautiful dancers.
Our Parkville dance studio feels like 'home'
For many, Catherine's Dance Studio is another place to call 'home',  a place to belong.  A student wrote a paper on Catherine's Dance Studio and said the studio was like a 'family' to her. Consequently, not only did Catherine make her feel special but the girls she danced with made her feel special as well.
About Catherine Stephenson
Catherine's Dance Studio was started by Catherine Stephenson when she was just 14 years old. She converted her bedroom into a dance studio by pushing her daybed into a corner and adding all the telltale signs of a dance studio: wood floor, a wall of mirrors, a bar and painting the room pink.
When Catherine graduated from UMKC (where she was a dance team member), she was choosing between two career options: teach in a classroom or focus on her own dance studio. Her choice was obvious. Having grown her class list to the point where she couldn't accommodate any more students, (due to time and space constraints) Catherine opened her dance studio in downtown Parkville.
"I love to dance. I love everything about it. When I don't dance I miss it. I look forward to teaching students to dance and to see what they think of the dance. It is exciting to see their growth. To see how they develop, to watch them become dancers and become individual people. It is amazing for me to be a part of that."
- Catherine Stephenson
Little and big girls are meant to feel like they belong, and they do. The instructors consider each student they have a blessing.
Find out more about Catherine's Dance Studio. Call (816) 214-7370 or go to our registration page for a detailed class schedule.