Pointe is a technique of classical ballet where students wear special Pointe shoes. These shoes help the dancer balance and perform the dance, transferring all the weight of the body on the fully extended foot or tips of the toes. This is a specialized dance class and students younger than 12 are discouraged from participating. The fragile bones in the foot are still growing for children under 12 and the strenuous exercises and demands that are placed on the foot during pointe class, should be considered by the parent. Talk to Catherine is your daughter has an interest in dancing on Pointe.
The purpose of Pointe is to enhance the dancer's ability to look weightless. Pointe is the technique that many people notice when watching Ballet. Pointe dancers will walk, leap and arabesque on Pointe.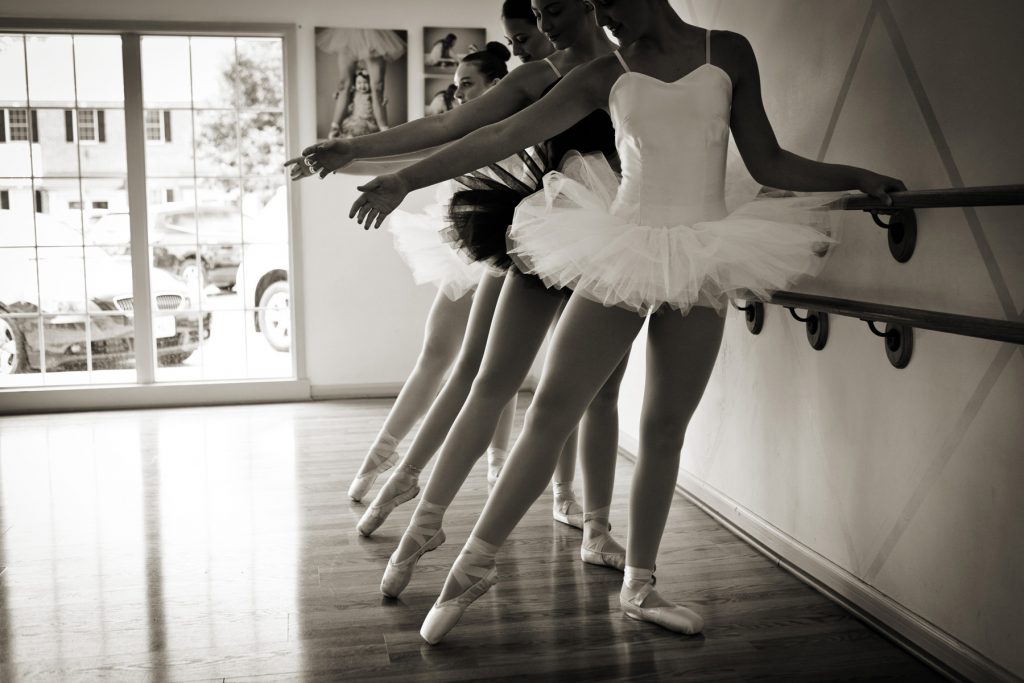 Dancing Pointe is for Older Dancers
This technique is usually not for children under age 11 since the bones in their feet are still soft and are not fully grown. Strong ankles and legs are a benefit when preparing to dance on Pointe. It is not necessary for dancers to move to pointe to advance in Ballet. However, because of the attention and grace that inherently comes with the technique, many dancers aspire to own "Pointe shoes" and dance on Pointe. Hard work, dedication and tolerating a certain degree of pain, is necessary to move onto Pointe.
Catherine's Dance Studio offers Pointe Class to Ballet dancers who aspire to practice and learn this technique. If you are a student in Ballet class, please talk to your instructor about your desire to learn Pointe. She will make sure that the groundwork you require to move to that technique class is explained and presented to you.
Pointe Requires Concentration
Pointe is a technique in ballet that is an advanced concentration of skills in ballet. Not all dancers need or are required to learn to dance on Pointe. Our smaller class sizes give our dancers more individual attention. This is especially important in a Ballet Pointe class. Our instructors for this class are carefully chosen for their past experience and ability to teach this technique professionally and skillfully.  These students will have the opportunity to showcase their skills at our 2 recitals that we have each year.
For more information about enrolling in a Pointe class, call us at (816) 214- 7370 or you can register for the class online.