We are excited to offer our students (and maybe some new friends) a schedule of Summer Dance Class Sessions for Summer 2016.  Please fill out the registration form on this page.  The summer brings more relaxation, so our summer classes will be treated more like summer camps. Casual and fun!
Class size is limited to 10 on a first come- first served.  Current students take precedence. Please register early to ensure your daughter has a space in the class.
Summer Dance Classes 2016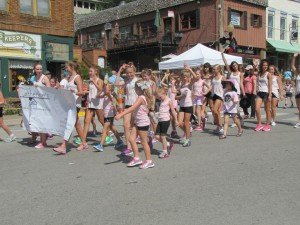 June 27 - August 7 (Studio closed July 4-10)
The following styles will be included in the dance camp: Ballet,Point,Tap,Lyrical, Jazz, Jazz Funk, and Hip Hop.
All sessions include involvement in Parkville Days parade (which will be August 20.)
Enroll for a class/classes for the Fall Session and get a t-shirt for the parade
A $25 deposit is due before May 20th for current students to reserve a space/spaces in the fall class/classes
Fall session begins September 12th
Open enrollment begins May 20th