One of Parkville's most popular annual events is upon us again. Parkville Days will be Friday, August 19 through Sunday, August 21 this year in historic downtown Parkville's English Landing Park right by the Missouri River. If you have never been, it's the perfect event to add to your bucket list. Parkville Days festival features so many things for families to do. It caters to all types of people with carnival rides, a pancake breakfast, a downtown parade, a 5K/10K run, live music, amazing food options and yoga in the park. Admission is free. Country, Jazz, and group entertainment will be spotlighted on the main stage.
Catherine's Dance Studio will be joining the festivities for the 3rd time in the Saturday morning parade. Winning 2015's First Place Best Float will require big plans to make a splash again this year. With a parade theme of "Back to school/School is Cool" you'll have to come see what this year's float will be.
Parkville Day Schedule of Event
Friday, August 19th:
6 PM – 7 PM Band: Jason Craig and the Wingmen
8 PM – 10 PM Band: Outlaw Jim and the Whiskey Benders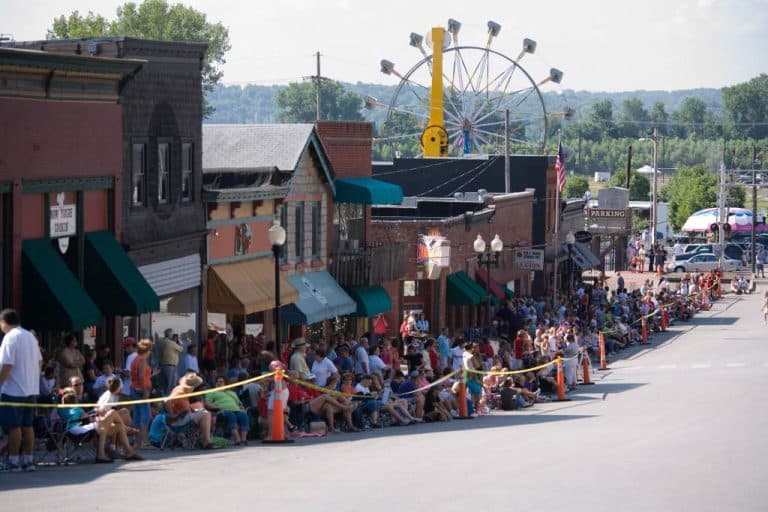 6 PM – 10 PM Vendors & Carnival
Saturday, August 20th:
7 AM – 11 AM $6 Pancake Breakfast
10 AM Parade "Back to school/School is Cool"
10 AM – 10 PM Vendors & Carnival
11 AM – 4 PM Group Entertainment at McKeon Stage
4 PM – 5 PM Band: Silver Streak
5:30 PM – 6:30 PM Band: Eddie Moore & The Outer Circle
7 PM– 8 PM Band: Ryan J. Lee (Mezzo Strings)
8:30 PM – 10 PM Skip Hawkins Orchestra
Sunday, August 21st:
7 AM – 9 AM 5th Annual Parkville Days Run By the River 5k/10k
9 AM Yoga in the Park hosted by Om Prana Yoga
10 AM – 6 PM Vendors & Carnival
11 AM – 6 PM Group Entertainment at McKeon Stage
Tips to Make the Most of Parkville Days
Children and adults of all ages will find something to enjoy at this year's festival. With live entertainment throughout, shopping, arts & crafts and food vendors you can't go wrong. A few tips can help your visit go smoothly.
Bring lawn chairs to use during down time or while watching the main stage entertainment.
Utilize the free parking at Park University and English Landing Center.
Do NOT bring outside alcohol into the event. Vendors will be selling alcohol throughout the weekend for consumption within the festival grounds.
Save money by purchasing a $25 unlimited carnival ride wristband if you are a thrill seeker.
Dance Studio Student & Parent Information
On Saturday, August 20th, parade participants from Catherine's Dance Studio will  meet at the Rio Salon, 63rd and Bell Road at 9:15 am where they, along with a few parents,  will line up to march with the float. Look for Catherine's Dance Studio participants to be wearing special parade tank tops. A "big and sassy" side ponytail is the hairstyle of the day to match the theme of this year's float.  After the parade, all dance students, and their parents are welcome to join to come back to the studio for hot dogs. See you at Parkville Days this summer for some great end of summer fun!