Catherine's Dance Studio has many exciting and new things going on. Their new dance studio space is nearly complete and will offer more space for more wonderful students. It's important to Ms. Judy and Ms. Catherine to continue to maintain the "small town" dance community they have created. Providing each student with individual support and instruction has always been a priority. The prospect of this dance community expanding is exciting yet maintaining communication is still essential.
There are always Catherine's Dance Studio events to look forward to. Summer classes are in full swing and fall registration is currently open. There will be an open house for current and prospective dance families, preparing to move into the new studio space and organizing for the Parkville Day Parade. Not far in the future, the Winter Recital will take place. And the fun, learning, and growing will just keep going and going.
3 Best ways to stay informed
So how do dance families stay informed about what's going on at Catherine's Dance Studio? Communicating information to parents and students in a timely manner is a priority. Information for all upcoming events, registrations, ticketing and such will be communicated in three main ways. The Catherine's Dance Studio website will be the first source of information for all families. Parents can visit the calendar on the Dance Class Schedule page for up-to-date times for all dance classes. The Parent Page will have any and all announcements parents need. There are registration forms to print and fill out. There is information on events such as the Parkville Parade and the Open House. Times and locations will always be provided.
In addition to the website, registered parents will receive emails with pertinent information as well. Please be sure to read through all emails and note dates and times that pertain to your dancer.
Of course, there is also the Catherine's' Dance Studio Facebook page. All event information will be shared there as well. Any last minute cancellations or updates can be found there. If you wish, you can set your Facebook feed to show dance studio posts first. Simply hover over the Following button under the big header picture on the Catherine's Dance Studio Facebook page and click "See First" under In Your News Feed. This will allow you to always see important posts first including beautiful dance pictures.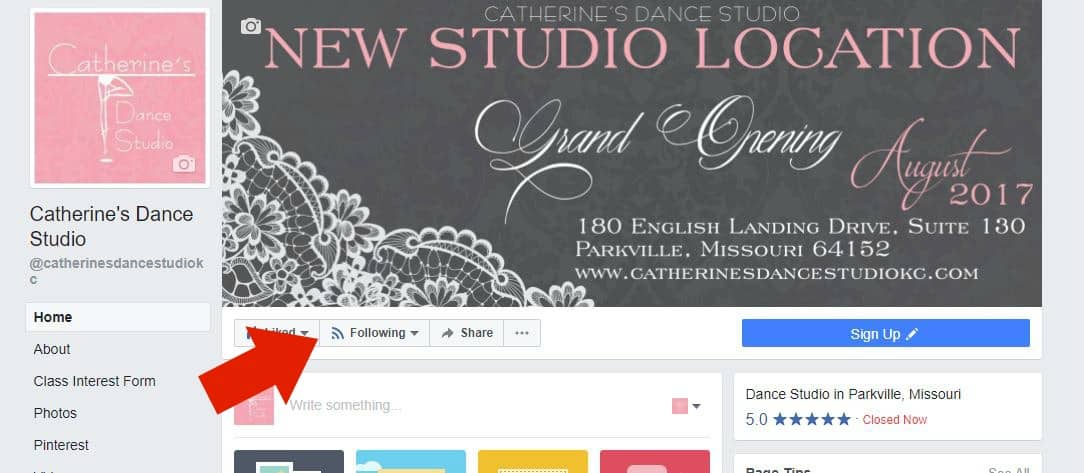 So many great things coming
Catherine's Dance Studio loves it's dance families and know that life is busy. If you have questions about an event or registration, please reference www.catherinesdancestudiokc.com. All current information will be there. Ms. Judy and Ms. Elizabeth are always working hard to keep parents informed. Thank you for entrusting your child or children to us. We value and appreciate you and want to make keeping up with dance class as easy as possible. So stay tuned. There are a lot of fun things coming your way from Catherine's Dance Studio.
Stay Informed – What's Happening at Catherine's Dance Studio
was last modified:
March 25th, 2020
by