If your little one has expressed an interest in taking a dance class, you may be wondering what benefits this new endeavor might offer. Finding an activity that works into your family schedule is essential, but considering your child and what they might learn is important too. The benefits of dancing are numerous and can often have an effect throughout a lifetime.
How will the Journey Begin? The Benefits of Dancing
We all believe our children are perfect just the way they are, but soon enough they grow into their own independent selves and go out into the world. As parents, we want to give them the skills to be happy and successful. Our purpose is to expose them to many activities so they can begin to decide where their passion lies. As parents, we strive to create well-rounded children that can navigate the ups and downs of everyday life. Taking them to dance class may seem like just an afternoon activity, but the benefits of dancing translate into many other aspects of their lives.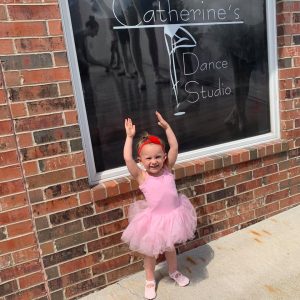 The benefits of dancing for young children often start with a fun activity that leads to many other things. Children are eager to get to class, to wear their new outfit, and to twirl around the dance floor. This is how they perceive dance class. In reality, they are also meeting new friends, bonding with a team, exercising, increasing coordination and flexibility, and bolstering confidence. They get to burn off excess energy all while learning to focus. Listening to their dance instructor and receiving positive feedback can boost confidence. Those children that tend to be shy often begin to blossom. Being a part of a team, just like in any sport, requires them to do their part all while receiving support from their teammates and their instructor. In addition to the excitement of performing together on a stage in front of a crowd, they will bond with their fellow dance mates. They will improve physically and socially while having fun at the same time.
The Benefits of Dancing increases in adulthood
Whether you danced in your youth or are looking to try something new, the benefits of movement, like dance, as an adult are important. Yes, we may not be as coordinated as we used to be. And our energy levels after a day at work may be waning but making the time to incorporate some physical activity might be just what you need.
Experts say that getting your body moving with some sort of exercise benefits every aspect of our lives, physically and mentally. Exercise can lift your spirits and strengthen your body. It's hard to find time unless you make it a priority. Getting together with others in the same situation, looking for a fun environment to learn and grow together is an incredible benefit. You can melt away the worries of the day, focus on you, and do something you enjoy. When your muscles are sore the next day, you will know you are working hard. Your energy level can increase and all the while you will be having fun.
Give your young daughter the right first step toward a lifetime of positive physical activity with a dance class or two. When you do, you may be introducing her to positive habits that may be with her for the rest of her life.
The original date of this post was October, 2016. It has been updated.