When I was growing up in Dubuque, IA,  I had a childhood friend who took ballet classes and was desperate (at age 9) to go to New York and dance. She was focused and passionate, even at 9. When she went to class she always looked like a ballerina with her hair pulled back, wearing pink tights and slim black leotard. She showed me her toes after class sometimes- bloody and battered- from wearing her toe shoes with the long pink ribbon. I was envious that she was committed to something she loved to do.
My parents made me take piano lessons (my lessons were on Saturday morning right in the middle of cartoon time. Back then the only day cartoons were on was Saturday!) I didn't have passion for playing the piano and disliked having to keep my nails short so they wouldn't click on the white keys.
Ballet, Jazz , Hip Hop Class- Age is just a number
My friend's interest in ballet was contagious enough that despite my being more of a jock, I took ballet classes. I remember learning the positions (1st-5th) and although the gracefulness of watching ballet and the athleticism it requires interested me, it wasn't enough for me to make the kind of commitment my friend had for ballet. I decided to try Jazz Dance. Jazz was more my style. I loved the rhythm and the moves and the pace of jazz. I eventually transitioned from dance to volleyball but I have good memories of taking dance classes when I was younger. I relive some of those memories when I watch my own daughter take Jazz and hip hop and now Ballet at Catherine's Dance Studio. I actually had to beg her to take her first class. I just wanted her to try it. I promised if she went she'd only have to go once. If you have ever met Catherine Stephenson, you'll understand what I'm about to say next. My daughter wasn't even finished with the first class when she came up to me and asked if she could come back for more classes.
As a child, when I took dance, you had to like to dance or develop a passion for it. At Catherine's, her teaching style and how she communicates with her students gives them more of a chance to love to dance. They feel loved and they feel special in her class and they come to love and appreciate dance as well.  If I'd have had the kind of teacher that my daughter has with Catherine, I may have pursued ballet.
You are not too old for a Ballet Class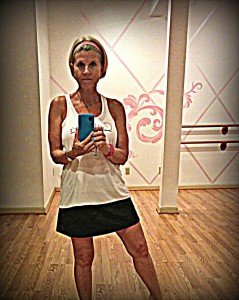 I was thrilled to discover that my opportunity to love dance and be the dancer I had briefly dreamed about (to be honest, my dream was to be a Solid Gold dancer) has not yet passed me by. Catherine's Dance Studio is offering a class on Wednesday's nights at 6:30 for adults 18 and over,  who want to improve their strength, flexibility, posture and coordination (while losing a few pounds and toning muscle) with ballet, jazz, barre, hip hop and belly dancing!
I tried ballet at 9 and now at 50, I am going to try it again! I bet I am a better student today than I was back then. I know I'll have a better teacher. I am not too old to learn ballet and I am excited to get a second chance to do it.