Lots of hard work, time, commitment, passion, and heart has gone into Catherine's Dance Studio upcoming 2017 Spring Recital. Parents, instructors, and dancers will soon have the opportunity to witness and showcase these efforts on stage. It's a favorite time of year for so many and there are lots of details that go into this special day. Here are some important dates, times and information to keep in mind.
Picture Day
Wednesday, May 10 and Thursday, May 11, 2017
VIP Special Event Space
*please arrive early, group photos will be taken first then individual
Spring Recital Tickets
Tickets will go on sale Monday, May 1, 2017 @8:30am
Buy Tickets Here
Spring Recital Rehearsal
Tuesday, May 30, 2017
Liberty Performing Arts Theatre
*please be prompt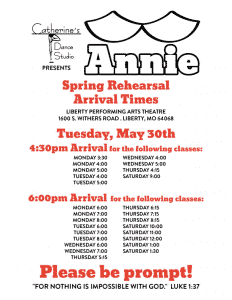 Recital Arrival Times
Wednesday, June 3, 2017
Liberty Performing Arts Theatre
*please be prompt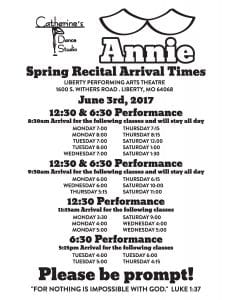 Catherine's Dance Studio is committed to keeping families informed on all the events and details that lead up to their 2017 Spring Recital. Please check the parent page on the website and Facebook for additional updates. And don't forget, just like Annie says, "You're never fully dressed without a smile!" It's almost time to put on those beautiful costumes, those brilliant smiles, and shine.